Operations
·
Fully Remote
Antarctica: Port Lockroy Shop Manager 2023-24
Are you a committed individual who can live and work in a team for 5 months (Nov-Mar) in Antarctica? The role requires hard work, resilience and dedication. Read full Job Description below.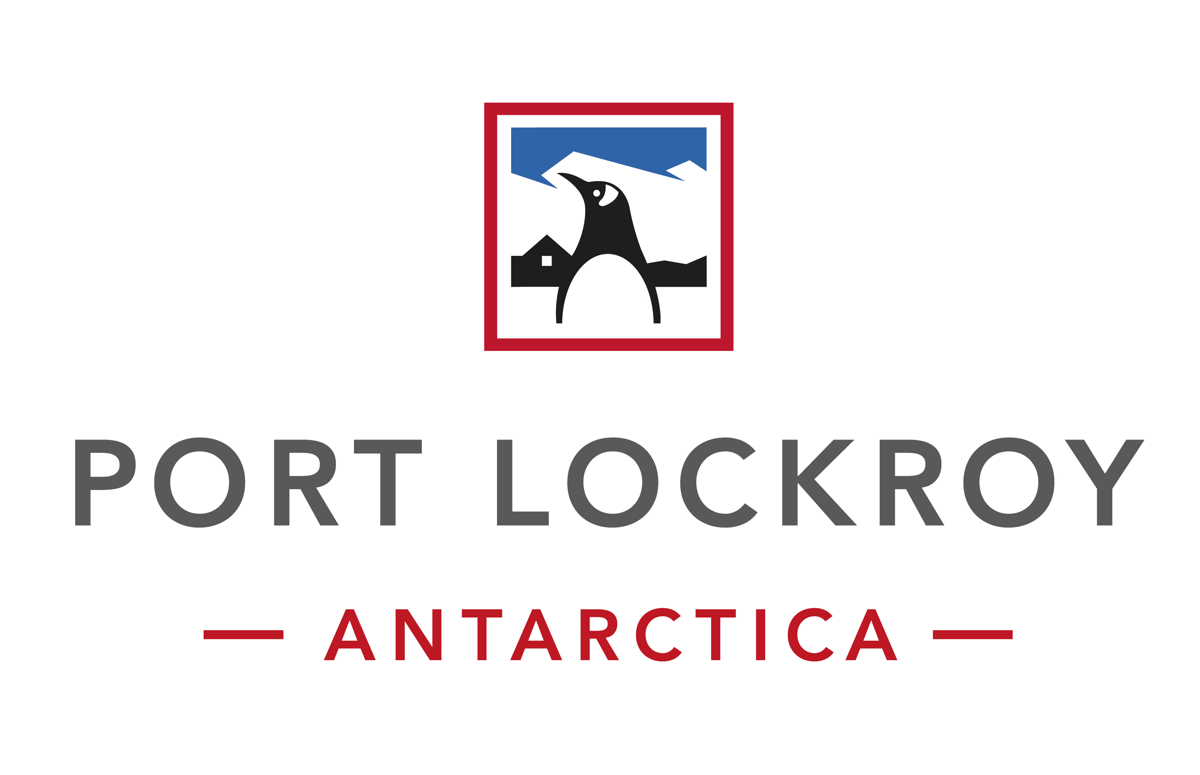 We are looking for an experienced retail specialist with a passion for the outdoors to be part of a team that will spend up to five months (November – March) living and working at Port Lockroy in Antarctica. This will include welcoming up to 18,000 cruise ship visitors to the island, running the gift shop, a British Antarctic Territory Post Office, annual maintenance and upkeep of the historic buildings and artefacts, wildlife observations and many other varied and challenging tasks.

As well as the shop responsibilities, other team base tasks need to be completed throughout the day/season, so flexibility is key. The Shop Manager will recommend changes in the display of stock and make recommendations regarding pricing with a view to maximising profitability. You must be confident in training and motivating your colleagues - retail does not come naturally to everyone, so your guidance is crucial.
You must be able to complete cash analysis, deal with multiple currencies, have an understanding of credit card machine software and have excellent stock management experience. We rely on the ability of the Shop Manager to help guide UKAHT through the season. Working so remotely requires a level-headed and unflappable candidate who can think on their feet and make decisions.
We are particularly looking for people with experience and skills in one or more of the following areas:
Shop management and a thorough understanding of EPoS systems.
Visual merchandising.
Sales reporting and analysis, book keeping and stock management.
Customer service roles – in particular, within retail.
---
ABOUT PORT LOCKROY
Port Lockroy, Base 'A', is a British historic base situated on the tiny Goudier Island off the Antarctic Peninsula. It is our flagship historic site receiving circa 18,000 visitors each season, one of the most visited sites in Antarctica. It is also our primary source of income and supporters. Base 'A' was established in 1944 and operated as a British research station, initially under Operation Tabarin and later by the Falkland Islands Dependencies Survey (FIDS) until it was closed in 1962. The abandoned base was recognised for its historical importance and contribution to British science and given the status of Historic Site and Monument (HSM) No. 61 under the Antarctic Treaty. In 1996, Port Lockroy was restored as a 'living museum' and since then has operated during the Austral summer as a visitor site welcoming those who travel to Antarctica on expedition vessels and yachts. Port Lockroy has been under the care and management of UKAHT since 2006 and each season we contract staff to operate the base, continue the ongoing maintenance of the historic buildings and their artefacts, promote British Antarctic history and science to the visitors through the museum, and raise funds for the work of UKAHT in Antarctica and the UK.
---
LIVING CONDITIONS AT PORT LOCKROY, ANTARCTICA
STAFF ACCOMMODATION
Staff accommodation is basic but comfortable, and we aim for our staff to live as sustainably as possible. Staff quarters are a purpose-built Nissen hut which is a reconstruction of the historic Nissen hut in keeping with the aesthetics of the other historic buildings on the island. Staff share one bedroom (hostel style bunkroom) with access to a kitchen/living/communications area, a separate boot room and washroom.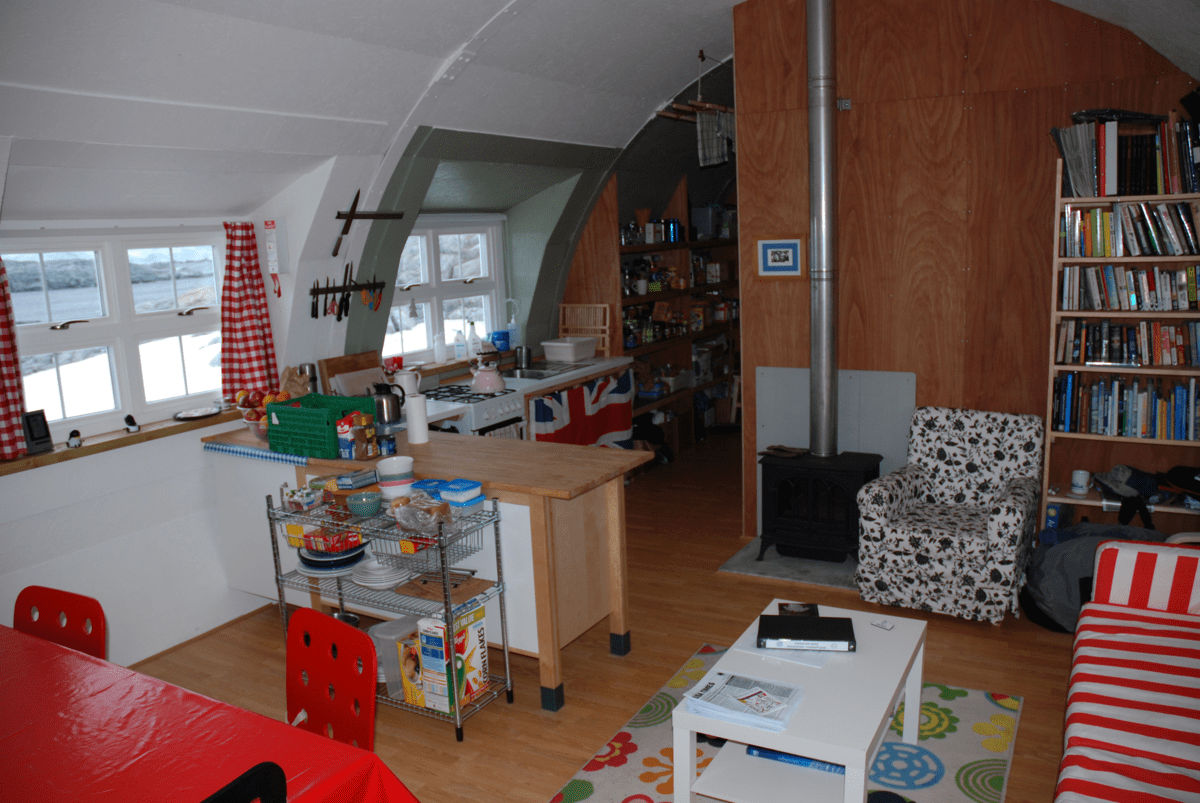 WATER AND WASHING
We have no running water on the island, so washing facilities are very basic. Water is collected in jerry cans from visiting ships.
There are no shower facilities at Port Lockroy, so staff are expected to be comfortable living with these limited washing facilities, yet still keeping hygiene levels high. Visiting ships will offer showers approximately once per week, but when weather conditions are poor you could go up to two weeks without visitors or a shower.
There is no flushing toilet at Port Lockroy. There is a basic camping toilet which is emptied daily by the team on base.
COOKING AND HEATING
There is a cooker and heater in the main kitchen/living area, both of which are powered by propane gas. Fire is our greatest risk and use of these requires great care.
Staff all share the cooking duties at Port Lockroy and take it in turns to make meals for the team on a rota system. Food is shipped from the UK and consists of a wide variety of dried and tinned foods, occasionally supplemented by fresh food donated from visiting ships.
UKAHT can cater for vegetarians at Port Lockroy, but other dietary requirements, food allergies and/or intolerances are extremely difficult to accommodate. This is due to the team sharing meals, time available to prepare food and the type of long-life food available. Please consider this before applying.
POWER
Power is limited at Port Lockroy. The base is run entirely on solar power, with a back-up petrol generator for emergencies. There are no hair dryers, electric toothbrushes etc and only essential electrical equipment is recommended.
COMMUNICATIONS
Communication is primarily via satellite. Basic text-only email is available for work purposes: keeping in touch with UKAHT Operations team and coordinating ship visits and logistics onsite at Port Lockroy. This can be used for personal email, but these opportunities are minimal as there is very little free time.
There is no internet access at Port Lockroy, nor is there mobile phone reception.
We have satellite telephones, chiefly for emergency use or scheduled communication with the UKAHT Operations team. The cost of satellite phone calls is £7/min, the connection is not always reliable, and its main purpose is for safety. There is limited access to these for personal use and you will have very minimal communication with home for up to five months.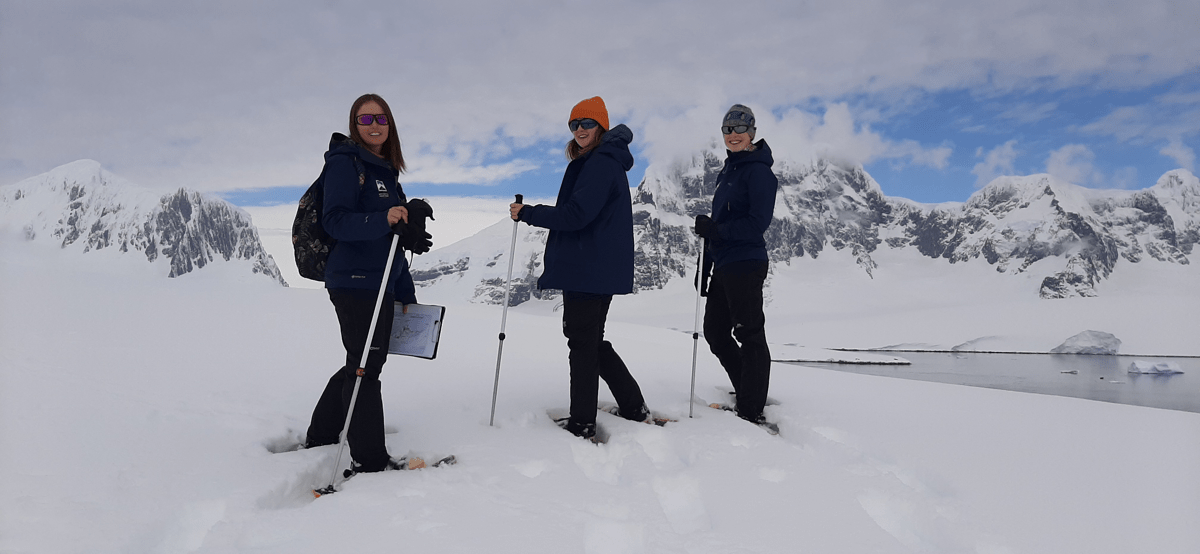 TEMPERATURES
You will be on the Antarctic Peninsula in the summer months so temperatures will vary between – 5°C to +5°C. Most days will be just a few degrees above zero, but overcast days and wind-chill will make it feel colder. It is also very wet, the conditions are similar to the Scottish Highlands in winter.
We will provide warm and waterproof clothing and footwear for your time at Port Lockroy which you will be expected to supplement with thermal baselayers and other layers. Most of your work involves spending many hours either outside or inside Bransfield House (a historic building with no insulation or heating) but often the work is very physical, so layers are very important.
The Nissen hut is insulated and, once it has warmed up, tends to retain heat quite well; on average the inside temperatures reach about 14-15°C. However early season temperatures are low, so you need to be prepared and equipped to live in low temperatures.
PHYSICAL FITNESS
As this role will involve working in challenging conditions in Antarctica, the successful candidate will need to be physically and medically capable of doing the job. There is a lot of physical work at Port Lockroy and all team members are expected to contribute equally. This includes: carrying 20 litre jerry cans of water, lifting and carrying 15kg boxes, digging a LOT of snow every day, cutting steps in snow/ice for safe visitor landings, unloading boats on slippery rocks. While candidates do not need to be athletes, they do need to be strong and resilient to undertake these tasks daily for several months.
Successful applicants will be required to undertake a medical assessment with our Occupational Health experts, as well as their own GP. If you have any medical concerns at this stage, then please discuss with your GP or you are welcome to talk to us informally.
MEDICAL FACILITIES
There is no doctor stationed at Port Lockroy and the nearest hospital is in Ushuaia, Argentina. We stock a good supply of emergency equipment, antibiotics and painkillers and our staff are given extensive remote first aid training. We can also seek advice from the doctors who work on IAATO ships during the Antarctic season, and we have a 24hr remote medical consultation service that can be contacted for both emergencies and routine medical concerns. In a medical emergency evacuation to a hospital could take up to 7 days. Please consider carefully your fitness for the role in terms of:
Mental ability to manage a busy, demanding job in an isolated environment, with limited contact with family/friends.
Physical demands of living in the polar environment.
Physical ability to help/rescue others.
Short notice personal medical supplies will not be available.
Impact of emergency evacuations on the team that are left behind.
All Antarctic team members will be required to:
Complete a confidential medical questionnaire which will be sent to our Occupational Health expert for assessment and review.
Undergo a thorough medical and dental assessment (including a review of your complete physical and mental health history) signed off by your GP. Where there is a significant medical condition, we will seek medical guidance before confirming a place on the Antarctic team.
Please note that while all information received during the selection and training process is treated as confidential, any or all of it may be shared with suitably qualified third parties if this is deemed necessary for the safety or well-being of you or others while in Antarctica.
SPORT AND RECREATION
Your safety is our first priority and Port Lockroy is in a remote and potentially dangerous place. Unfortunately, we are unable to permit any adventurous recreational activity – sorry, no skiing, watersports, glacier walking etc. Port Lockroy is situated on the tiny Goudier Island, which is the size of a football pitch and surrounded by sea. Due to the rocky/snowy terrain, it is not possible to go for a run or take a long walk if you need time on your own. Exercise options are very limited, but the role is busy and physical and most team members don't have the time or inclination for additional exercise.

SMOKING

UKAHT operates a no smoking policy which extends to all our heritage sites in Antarctica. Smoking (traditional cigarettes, e-cigarettes, and any other form of inhalation/vapours) is categorically prohibited in all areas on the island for protection of the historic buildings and wildlife. We don't recommend using your time at Port Lockroy as an opportunity to quit smoking and "go cold turkey", the pressures of island life would make this particularly difficult for you and could also impact the team dynamics.
REMOTE BUT HECTIC
Although Port Lockroy is an extremely isolated location, the base welcomes hundreds of visitors each day, nearly every day of the season. The team onsite are delivering excellent customer service from 9am – 6pm (they get one day off every two weeks), so it is not the peaceful retreat from the outside world that you might expect. Although the surroundings are truly spectacular, the workload is large and exhausting and there is very little free time to relax or switch off. As a recent team said: "it's remote but hectic, basic but comfortable, and similar to living on a boat. You're in a tiny place, surrounded by water and you can't get off!"
---
THE ROLE
Job Title: Port Lockroy Shop Manager
Reporting to: Port Lockroy Base Leader and UKAHT Head of Operations
Job Role: Managing the gift shop and assisting the team at Port Lockroy, Antarctica.
Responsibilities - supporting the Port Lockroy and UKAHT Operations teams by: 
Managing the Port Lockroy gift shop – working behind the till (EPoS system) during ships visits, restocking the shop as required, arranging merchandise displays and handling customer enquiries.
Training and supporting your colleagues to ensure a professional environment is maintained throughout the season and that sales targets are met.
Encouraging charity support and donations at point of sale.
Managing stock and sending regular sales and stock reports to UKAHT head office.
Penguin, wildlife and environmental monitoring on behalf of the British Antarctic Survey (BAS). Training will be provided and a written report will be required at the end of the season.
Operation of the Post Office on behalf of the British Antarctic Territory Government (BATG). This includes managing all postal stock, promoting and selling postal stamps, hand franking all mail processed through the Post Office (up to 80,000 pieces of mail seasonally), coordinating transport of mail and producing an annual sales report.
Regularly checking the museum displays and interpretive materials.
Contributing to the annual maintenance works programme and assisting in all maintenance tasks.
Managing day to day supplies (non-merchandise) including controlling the stock of food, equipment, tools and inventories.
Adhering to the Standard Operating Procedures on base at all times, paying particular attention to health and safety.
Taking a proactive part in all aspects of daily living on an Antarctic base to include all domestic jobs such as cleaning, cooking, waste management as well as daily snow digging, clearing of paths and other jobs which may arise.
Delivering regular briefing talks to visiting vessels prior to them landing at Port Lockroy (without presentation aids, speaking to audiences of up to 350 people) and be prepared to deliver lectures/talks on Port Lockroy when requested.
Creating engaging content for our communications and social media to include a weekly blog written from Antarctica and occasional participation in other media such as radio, TV and newspaper interviews pre, during and after the Antarctic season.
Promoting UKAHT through your daily dealings with visitors to Port Lockroy. This should include learning the history of Port Lockroy and other British historic bases on the Peninsula including Operation Tabarin, FIDS, Antarctic science and the current heritage and conservation work of UKAHT. Be prepared to answer the same questions over and over from visitors, while maintaining enthusiasm for your subject.
Ensuring the reputation of UKAHT is always maintained and enhanced through our work.
Working flexibly, contributing equally and supporting colleagues at all times.
---
PERSON SPECIFICATION
Skills - essential
Good communication skills – written and verbal.
Excellent customer service skills.
High level of attention to detail.
Ability to support and motivate others, creating a positive attitude within a team.
Good IT skills: Office applications, Excel databases, basic photo editing.
Ability to analyse data and produce concise reports.
Fluency in written and spoken English.
Skills - desirable
Practical field skills for operating in remote or challenging environments
Practical maintenance skills (eg. painting, woodwork, any other)
Fluency/ability to communicate clearly in a second language (French, German, Spanish, Chinese languages preferably)
Blogging and creative communications
Knowledge - essential
Knowledge and application of health and safety best practice.
Use of IT for managing information, communications and reporting
Awareness of the conditions and limitations of life and work at Port Lockroy
Environmental awareness and practical knowledge of minimal impact living
Awareness of issues surrounding operating in Antarctica or similar remote and challenging environments.
Knowledge - desirable
Basic knowledge of GDPR and Data Protection Regulations.
Awareness of the issues surrounding working with historic sites and buildings and associated artefacts.
Experience - essential
Managing a shop, including back office processes, stock checks, compiling sales reports, cash reconciliation, comprehensive cash recording.
Good working knowledge of EPoS systems and ability to troubleshoot when required.
Front of house visual merchandising.
Managing, training and supporting colleagues.
Experience of living away from home and family for an extended period eg 3 weeks or more.
Experience of living with people that aren't your immediate family/partner before eg. a house share, residential course, situation where you live and work together.
Experience - desirable
Experience of living without regular communication with friends/family.
Experience of similar remote, basic and isolated living and working.
Heritage and museums – in particular, visitor interpretation, artefact handling and management of a historic site.
Wildlife monitoring/management of visitors around wildlife.
Outdoor practical experience in remote locations.
Experience of practical maintenance (carpentry, building maintenance or similar), or DIY.
Behaviour – all essential
A real team player with high levels of empathy and initiative.
Genuine enthusiasm and commitment to providing excellent customer service.
Flexible and adaptable attitude, ability to cope with the unexpected.
Self-motivated and able to work without direct supervision.
A strong work ethic, with a commitment to get things done.
Ability to work under pressure on a range of competing priorities.
A people person, who enjoys being a valued part of a tight-knit team.
Considerate and careful with colleagues, visitors and materials (knowing that artefacts are irreplaceable and equipment, tools etc. can't be replaced easily).
Committed to health and safety and the promotion of equality.
---
TERMS
Location:
Port Lockroy, Antarctica
(preparatory work in the UK will also be required)
Salary and expenses:
UKAHT contract staff are employed on a self-employed basis for a fixed-term six month contract. Contractors are responsible for paying any tax or national insurance due via their own HMRC self-assessed tax return.
Salary: £1,630 per calendar month.
All pre-deployment travel (in the UK), training and accommodation needed as part of the role is covered by UKAHT. During Antarctic deployment all travel, food, accommodation and essential polar clothing are provided.

Key dates:
Closing date for applications SUNDAY 2 APRIL 2023
Online interview: dates tbc with short listed candidates
Team selection, Northamptonshire: 30 May – 1 June 2023
Meet the team training, Peak District: 11 – 14 August 2023
Pre-deployment training, Cambridge: 18 – 29 September 2023
Service in Antarctica: late October/early November 2023 until end of March 2024
Department

Operations

Remote status

Fully Remote
About UK Antarctic Heritage Trust
OUR MISSION IS TO PROMOTE A GREATER PUBLIC ENGAGEMENT WITH ANTARCTICA, THROUGH HERITAGE CONSERVATION, STORYTELLING AND EFFECTIVE ADVOCACY.

We are the UK Antarctic Heritage Trust, the principal organisation in the UK dedicated to advancing conservation, culture and education for heritage in Antarctica.

We aim to connect people with Antarctica's wonder and its stories of human endeavor to help promote a greater understanding of this extraordinary place and the role we all have in protecting it.
We help conserve Antarctic heritage by looking after six historic sites on the Antarctic Peninsula, delivering a range of vibrant and creative public programmes, and working with Antarctic policymakers on issues related to heritage conservation.
Operations
·
Fully Remote
Antarctica: Port Lockroy Shop Manager 2023-24
Are you a committed individual who can live and work in a team for 5 months (Nov-Mar) in Antarctica? The role requires hard work, resilience and dedication. Read full Job Description below.
Loading application form
Already working at UK Antarctic Heritage Trust?
Let's recruit together and find your next colleague.